Movpak portable electric Skate Board with Backpack
Movpak is an innovative skate board. It comes with backpack and electric wheels, ideal for travelers to ride the skate board and alternatively carry luggage.
What if your luggage is capable of moving itself and it can also carry you? Travelling is not easy if you have to drag or carry a heavy backpack all the time. But, now it is possible through a smart innovative skateboard called as Movpak. It is a multi-purpose portable electric board that has a backpack attached and wheels with motors to move. It works through a remote and move with a speed of 20 Miles per hours, capable of carrying the weight of luggage and traveler both.

Movpak is designed to offer flexible travelling and keep all your essentials organized at one place. With that it also add extra benefits like Smartphone charging and wireless charging.  The video above highlight primary features of Movpak like portable size, flexible ride, easy control, etc.  Lower platform fits back in the backpack does not require any special assembly or place. Wheels have sealed motors and it can handle a weight upto 240lbs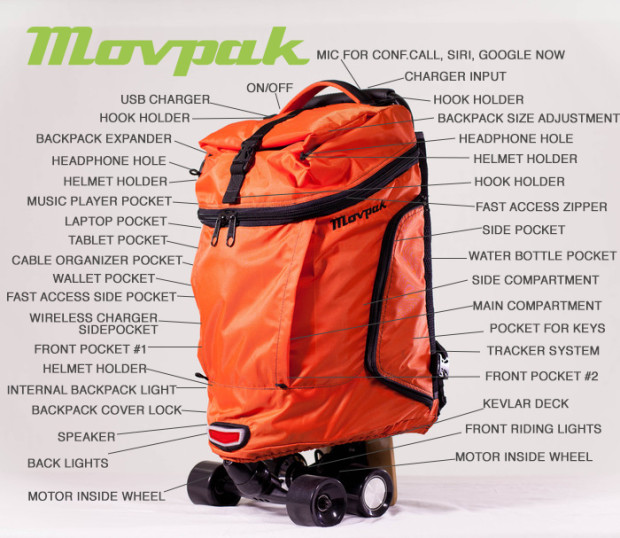 Movpak is an innovative mixture of electric skateboard and a good back pack. It has Smartphone charger, electric wheels that works on batteries and enough space to almost add anything you wish to carry with water resistant design. It is build to use in outdoors in any condition. Lithium battery powered sealed motors are not affected by bad weather. Movpak is available on Indiegogo $649 USD exclusive of shipping.
 Takeaways:
Movpak is a portable electric skateboard with backpack attached. Ideal for commuters to travel and ride the skateboard at a speed of 20mph.
The backpack is comprehensively designed to handle all the essentials required while travelling with Smartphone charging.