Fremont based Startup build World's fastest charging power bank
Era of low battery is about to end!
We are using amazing Smartphone's today, costly and lucrative. Big screen size, fingerprint sensors, hd camera, etc. so many features. But when it comes to battery usage, most of them does not has sufficient juice. Even the costliest Smartphone cannot guarantee you an excellent battery life. This problem can be resolved by carrying a power bank, kind of secondary device with extra battery power. Power banks of any model you buy today with small or big battery capacity has relatively slow charging rate. What we need today is something, which can charge fast to save time.
US based startup located in Fremont has, showcased its project of world's fastest power bank on IndieGogo called as SIMPIZiTron. 9000 mAH charger 8x faster than QC 3.0.

Video above shows the prototype of SIMPIZiTron. Claiming as the fastest charging power bank, this device can solve problems associated with slow charging, compared to tradition chargers that takes hours to fill up. 9000mAH on regular power bank requires more than 7 hours charging at maximum limit. Cutting the time SIMPIZiTron just require 18 minutes.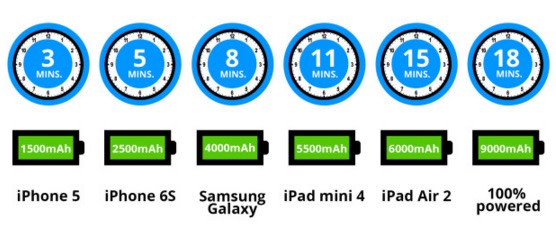 SIMPIZiTron boost Smartphone charging as shown in the image above. It takes around 5 minutes to charge a Smartphone with 2500 mAH battery capacity. Getting your phone fully charge in less time is among the tedious job many faces.  Quick Charge 3.0 is the latest standard a few high end devices use to boost charging.  It can provide 4X higher speed upon existing charging methods, but SIMPIZiTron beats them all by bringing 8x faster speed.
Takeaways:
SIMPIZiTron is outstanding project on IndieGogo that brings 9000mAH hast fast charging power bank. The power bank needs 18 minutes to get fully charged.
SIMPIZiTron is 8x faster compared to existing Quick Charge 3.0.